Noelia - General Manager
Noelia has been with Bella Vision since 2008. She loves what she does and has a passion for the optical field as well as fitting patients into the right pair of glasses. Her wealth of knowledge in this field is growing every day and her passion for her job shows. She loves her coffee in the morning as well as listening to her favorite songs from Daughtry on her way to work. On her days off she enjoys spending time with her family back in Yakima and playing with her two adorable kids - appropriately named, -Bella- & Anthony.
---
---
Nikki - Bothell Manager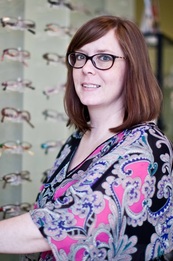 Nikki mainly works out of our Bothell office. She is great with our patients and has a knack for helping to select the right eyewear. She is knowledgeable in the optical field and hopes to keep learning for a better understanding of this field in order to help our patients get the most out of their visit with us. She considers coffee to be breakfast (that is if she makes it out of her house in time to stop for some) and loves a little too much reality television. On her days off she loves to spend time with her daughter and two adorable cats named, Chloe & Emmitt.



---
---
Jin - Bellevue Manager
Jin has been a staple in our Bellevue office from nearly the beginning. He adds a guys touch (including the Sports Illustrated & GQ magazine subscription we now get for our patients) as well as his eye for fashion. He is great at helping patients select the right eyewear as well as assisting with any adjustments or questions patients may have regarding their upcoming exam and/or insurance benefits. His knowledge and expertise in this field will not only ensure you will have glasses you can see with but also that will look and feel great as well. When he's not at work he loves to spend time with his lovely wife. He also likes to play basketball and/or watch a game on tv. He has also been known to ride his bike to work on occasion (round trip 40+ miles).

---
---
Elizabeth - Woodinville Manager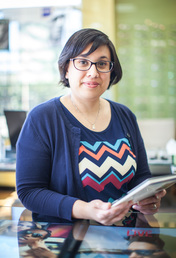 Elizabeth works at our Woodinville office. She enjoys getting to know our patients and focuses on making sure they are taken care of whether it be to schedule an appointment, verify benefits, or help in selecting eyewear. Amongst her dedication to our patients, she also helps the doctor making sure the preliminary tests are done. She loves to travel and experience different cultures and languages, speaking fluent Spanish herself. She is originally from southern California but fell in love with the Pacific Northwest with her husband and spoiled, handsome dog, Lucky.
---
---
Tommy - Dispensing Optician/Opticial Technician
Tommy is expanding his knowledge in the optical field each and every day. He strives to help each patient with the upmost care and respect. He has a great attitude and tries to build honest relationships with his patients. If you find yourself being helped by him, mention his pet rabbit -Cooper- and/or talk about cars like his dream car the -Mini Cooper- (which he recently got and is having a blast owning one) you will see his face light up. When hes not at work he loves to support Seattle's very own Seahawks as well as the NY Giants.
---
---
Safida - Dispensing Optician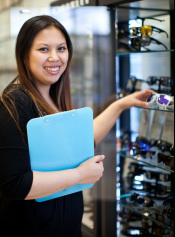 Safida has shown dedication when it comes to making sure our patients are taken care of. She believes in the importance of clearly understanding your prescription and benefits while you are in our office. Her willingness to go above and beyond has been seen and appreciated by many. If you want her opinion on glasses, she will always be honest with you and let you know if it's the right pair. On her days off, she loves to share memories with her darling son, Sakhi while they cook and laugh together.








---
---
Jerusha - Dispensing Optician
Jerusha works out of our Redmond office. She is great with our patients and loves styling our patients into great eyewear. Her keen sense of style helps our patients stay with the trends. On her free time she enjoys watching movies and playing charades. Originally from sunny California, she now resides on the Eastside with her family, 4 dogs and 2 cats.
---
---
Haley - Dispensing Optician
Haley was born right here in Edmonds, WA. She likes making sure our patients understand their insurance benefits along with helping them select great eyewear that goes with their style. Haley also works with our doctors to make sure the appropriate tests get done before eye exams. She is very proud of her hard work and organization skills. She hopes to keep doing what she loves for many years, as well as what she does in her free time: cooking, traveling, and hiking with her husband.
---
---
Cecilia - Dispensing Optician
| | |
| --- | --- |
| | ​Cecilia joined our Bella Vision team when Kirkland opened. She is from Prosser, WA and recently moved back to the area and absolutely loves being back in Kirkland. She enjoys learning about the optical field each and every day and looks forward to assisting our patients in english or spanish in all their vision service needs. |
---
Kenya - Dispensing Optician
| | |
| --- | --- |
| | Kenya has been with Bella Vision since November of 2016. She has found passion in helping patients understand their benefits and find eye wear they love. She enjoys expanding her knowledge in this field and keeping up to date with the latest lens technologies Bella Vision has to offer. Before she takes you for the pre-exam testing or sits you down to discuss your exam, strike up a conversation with her about music. She loves discovering new bands and artists! |
---
Kelsey - Lab Assistant
---
---