Dr. Choe, Dr.Antymis, Dr.Ahmed and Dr.Amaraweera all believe in the co-management of patients with their fellow healthcare physicians and sub-specialty providers to deliver the highest quality of patient care possible.
---
Derrick Choe, O.D.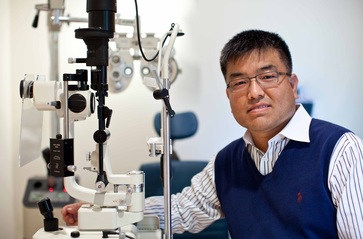 Dr. Derrick Choe has been recognized with honors and distinction for his academic and clinical excellence. He completed his Bachelor's degree at the University of Washington and went on to Pacific University in Oregon to receive his Doctor of Optometry degree. After his residency at the VA Medical Center in West Virginia, he returned back to Seattle and has practiced at Bella Vision since the 2001 opening. Since then, Dr. Choe has diagnosed and managed eye conditions due to Diabetic Retinopathy, Glaucoma, Macular Degeneration, and Cataracts. He is qualified to provide routine eye examinations, pre- and post-op exams/care for refractive surgeries (such as LASIK, PRK), specialty contact lens fittings (RGP, Synergeyes), and many other ocular treatments for diseases and immediate eye infections and inflammations. With his many years of experience treating patients, Dr. Choe has successfully seen a patient load of thousands.

On his days off, he enjoys spending time with his lovely wife and two energetic young sons.

---
---
David Antymis, O.D.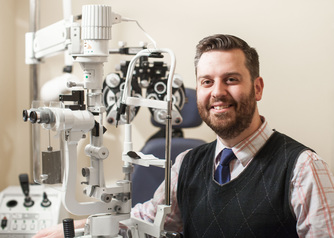 Dr. Antymis joined Bella Vision's team in March 2015. Originally from Canada, Dr. Antymis completed his Bachelor of Science at the University of Winnipeg in Manitoba, followed by his Doctor of Optometry at Illinois College of Optometry in Chicago, Illinois, where he earned several academic honors including membership in BSK honor society and receiving the Vistakon Award of Excellence in Contact Lens Patient Care. Dr. Antymis has worked in private practices in Calgary and Vancouver Island, Canada, as well as Portland, Oregon. His optometric interests include contact lenses, managing ocular diseases, and pediatric examinations. He enjoys seeing patients of all ages and practices with an emphasis on patient care, taking the time to listen and address patients' concerns and needs.

When away from the office, Dr Antymis enjoys spending time with his wife and English Bulldog, exploring the great Pacific Northwest.
---
---
Umema Ahmed, O.D.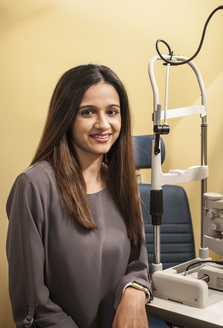 Dr. Ahmed grew up in Illinois and moved to Washington to finish high school and went on to complete her bachelor's degree in Biology at the University of Washington. She then returned to Chicago to attend Illinois College of Optometry, earning several honors including graduating Cum Laude and gaining membership in Tomb and Key honor society as well as BSK honor society. Her optometric interests include managing ocular disease and contact lenses. Her primary focus is on patient care, not only ensuring all patients' concerns and needs are met but that they fully understand the refractive and health aspects of their eyes.

​Dr. Ahmed is fluent in English, Hindi, and Urdu and can complete a basic eye exam in Spanish as well. In her spare time, Dr. Ahmed loves to bake and spend time with family and friends. She is looking forward to being able to hike again in the beautiful Pacific Northwest.
---
---
Harshani Amaraweera, O.D.
Information to come
​
---